So, OK, two evenings ago I sent the final proofs of Problems and Possibilities of Early Medieval Charters off to the publishers along with the index, and that was only the most urgent thing of about twenty I still have to do, but one of those is certainly to deliver the promised news that the last three posts haven't contained. So, the quick way seems best: when the book comes out, my affiliation in it will be University of Birmingham, because it is they who have kindly taken me on as a Lecturer in Medieval History for the next little while. So that's the big news: Jarrett finally leaves the Golden Triangle, and not before time. Everyone I've had dealings with in the department so far has been really nice and I'm looking forward to it, though just now I'm mainly looking forward to the move being over.
I will not conceal that for quite a lot of this year I've been fairly sure I was going to have to leave the profession at the end of this month, and indeed I'd started applying for non-academic jobs and had even been interviewed for one when this came up. Many of you who know me will have heard my various spiels about what seems to be happening here, but I will keep them out of this post. I have stub posts written about some of these issues, and given how backlogged I am, whether or not I reach them before I am back on the market is somewhat uncertain. (For that reason, I'm figuring that this post, which is actually current, should probably be left `sticky' at the top while I fill in backlogged content beneath, so take a look below and see if what follows this post is familiar!)
Instead, I shall use this opportunity to get the other various bits of backlogged news that lurk in the queue up and current too, and those are all about publication. Apart from the, er, five book chapters I have even now in press, somehow, several lesser bits of my work have actually come out where you can see them during the backlogged period, and they are as follows.
Name in Lights VI
So, in December 2012, a short piece of mine that I mentioned here a while back emerged, a reflective piece on blogging called "Views, Comments and Statistics: Gauging and Engaging the Audience of Medievalist Blogging", which came out in Literature Compass of all places, something which becomes more comprehensible when you see that it is part of a whole special issue called E-medieval: Teaching, Research, and the Net, with numerous very familiar figures in it… It is, as ever, an honour to appear in such august company for the few who can get at the journal, which has included Brandon Hawk of Modern Medieval, where he long ago reviewed the issue, so if you can't read the article, you can at least read that! (Full citation, though: Jonathan Jarrett, "Views, Comments and Statistics: Gauging and Engaging the Audience of Medievalist Blogging", Literature Compass Vol. 9 Issue 12 (Oxford 2012), pp. 991-995, DOI: 10.1111/lic3.12016.)
Name in the book somewhere I
Then, two chickens that had been out of the hutch for a very long time finally came in to roost. The first of these was a volume with which I have had a complicated relationship, Documentary Culture and the Laity in the Early Middle Ages, edited by Warren Brown, Marios Costambeys, Matthew Innes and Adam Kosto (Cambridge 2013). If you dig far enough back in this blog you can find me talking about the Lay Archives Project, of which this volume is the fruit, because I did some database work for Matthew Innes, my then-supervisor, which was supposed to contribute to it. In the end it did not, and this is not the place to tell my side of that story, not least because there are others, but nonetheless, I put work towards this book, it now exists, it's fantastically interesting if you want to know about how people used and thought about documents in the early Middle Ages (and I assume that if you're reading this you probably do), and if you look carefully enough, you can find my name in it, and I thank them for that as well as for, you know, actually writing it!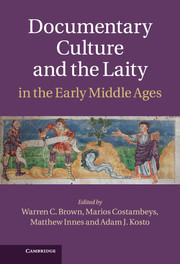 The other chicken, meanwhile, is somewhat larger, and it is Miquel Crusafont i Sabater, Anna M. Balaguer & Philip Grierson, Medieval European Coinage, with a Catalogue of the Coins in the Fitzwilliam Museum, 6: the Iberian Peninsula (Cambridge 2013). There's no secret here about the labour I've poured into this; it was in fact the thing I subsisted on after finishing the Lay Archives work, and it was mostly wrapped up and ready to go in 2006 when I got the full-time job at the Fitzwilliam that would, in the end, keep me going for four and a half years. When explaining to people some of the reasons why the volume still then took seven years to appear, I have taken to starting with, "Well, the two surviving authors…" Death, life-threatening illness, divorce, pregnancy, unannounced changes of contact details, unemployment and over-employment (especially this last) have all played their part in delaying the work of the various parties involved, even to the very last minute—a launch party had to be cancelled because of a sudden family illness, but unbeknownst to authors or editors the book was already on sale anyway—and I think the most amazing thing is that all parties involved have always been reasonable and pleasant to deal with, whatever the new problem was that had arisen. Anyway, it exists, and this is a great comfort to me, as not only do I actually have my name over two small parts of it (well, one small one and the Bibliography, which I think I contributed about a tenth of) but at some point or other in my role as copy-editor and then series editor I've probably changed or moved almost every word in it. It's not my work, but it has been one of my labours, for sure.
Those curious about such matters will probably also want to know how things stand with the rest of the series, and to that I can say from the inside, with suitable caution, that volume 12, which covers Northern Italy and is by Andrea Saccocci, Michael Matzke and William Day Jr, is scheduled to be next and is in its final stages now, and that volume 10, on Scandinavia, by Jørgen Steen Jensen, has been making reliable and steady progress for years and will also soon be finished, we hope, after which it becomes a contest between Britain and the Low Countries to be next. What's the timescale, you no doubt ask, and fair enough, but you understand that in 2006, there was no way, it was quite frankly impossible to conceive that MEC 6 was seven years away from publication. What could possibly go that far wrong? If I had not lived and worked through those seven years, I would now say: there is no way the next volume can be more than a year away. But I did, so I won't, because if I do it probably can…
Name in Print XI
Then lastly, for now, in April 2013 I achieved a personal first by getting published in Spain, and indeed, in Castilian, though that last came as something of a surprise to me when I got my copy as my text was English when I sent it in… The item in question was again only a review, this time of Scale and Scale Change in the Early Middle Ages, edited by Julio Escalona and Andrew Reynolds, The Medieval Countryside 6 (Turnhout 2012), which was a hard thing to review, because I know and respect many of the people in it, not least Julio and Andrew themselves and also Wendy Davies, and yet I didn't want to just wave it by without reflection. Parts of it are in fact important and very interesting, but… If you want to see how I balanced these imperatives, you can in theory find it in Historia Agraria Vol. 59 (Valencia 2013), pp. 193-197. I have no digital copy, or I'd upload it somewhere, but maybe I'll just scan it. And with that, you know as much as I do about my available works, so let's see what comes out next!